Concorso Italiano: Ferrari 250 GT TdF awarded with the "Best in show"!
The great exposition of Concorso Italiano, the most important event about Italian cars in the world, was held on Saturday, August 20th 2016 during the Monterey Car Week, in California. Egidio Reali, MR Group CEO and founder, had the honor to participate to the awarding ceremony of the "Best in show" as creator of the award itself: a resin sculpture based on the project of Joaquin Obligado, a young student of the course of Transportation Desing, held in IAAD University of Turin under the supervision of the great Italian designer Giorgetto Giugiaro.
Tom McDowell, President of Concorso Italiano, explained briefly the history of the making of the sculpture just before Egidio Reali's speech: "When Tom and Raffaello Porro, the man behind this project, came to visit my factory in Italy we decided to make something together. Now the dream has come true and I'm very happy to be here: I want to thank a lot Tom and the rest of the team for this beautiful event".
The original sketch by Joaquin Obligado and a close picture of the final sculpture.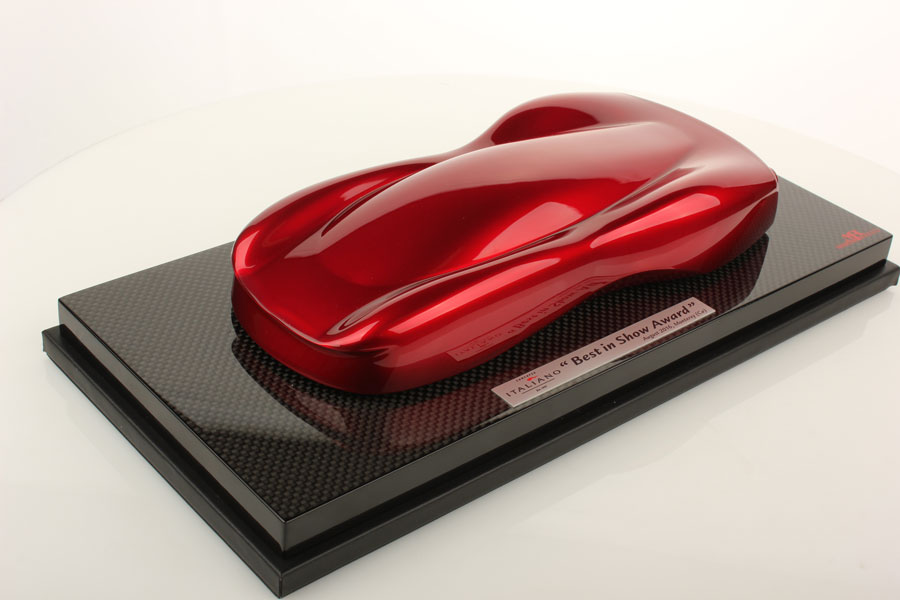 The award was given to a wonderful Ferrari 250 GT Tour de France: a spectacular car that won many races in the past. The last one was this beautiful sculpture that represent the future of Italian design: a future of which also MR Group is a part.
Photogallery
The full video of the awards ceremony